Automated System Recovery
Hello!
I have had several concerns, and questions regarding system recovery. As you might have seen as advertised on television how Automatic System Recovery (ASR) is available with Windows XP users. It is a good mechanism for guaranteeing restoration of your system if all else fails. The steps for backing up your entire system are simple once you have done it. However there are some fundamentals you need to know in advance that are not explained in the help program on your computer. Help is contained in the start button under Help & Support. When you open this great program it can just about answer any and all of your questions about your computers operating system. The best way to get to the subject matter on hand is typing in the search window these three letters "asr" and click on go. Then click on "Create an Automated System Recovery set using Backup" in the search results window. It will bring you to this window with the following information: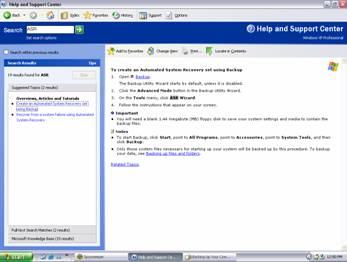 To create an Automated System Recovery set using Backup
Open Backup.

The Backup Utility Wizard starts by default, unless it is disabled.

Click the Advanced Mode button in the Backup Utility Wizard.
On the Tools menu, click ASR Wizard.
Follow the instructions that appear on your screen.
Important
| | |
| --- | --- |
| | You will need a blank 1.44 megabyte (MB) floppy disk to save your system settings and media to contain the backup files. |
Notes
| | |
| --- | --- |
| | To start Backup, click Start, point to All Programs, point to Accessories, point to System Tools, and then click Backup. |
| | Only those system files necessary for starting up your system will be backed up by this procedure. To backup your data, see Backing up files and folders. |
What you need to know in addition to the above steps are, does your computer have a floppy drive? Unlike PC'S 4 U some manufactures do not provide a floppy drive for your system.
Do disk clean up, disk defragmenter
Do you have at least 20 - 30G of free space on your hard drive or on a slave drive. Most back up devices zip drives, DVD, USB storage drives are not large enough to hold the current information of your system. Keep in mind that repeated back up will increase depending on additional files and programs you add to your computer.
The default backup location is set to drive A:\ with a browse button for you to select another location. I suggest that you make a directory (folder) named ASR on your hard drive or slave drive to select as the backup location.
The backup process will take one and a half hours to two hours.
After your system is backed up it will leave your hard drive fragmented so run disk defragmenter or some other disk keeper program.
If you ever need to use ASR to restore your computer to the last backup date it cannot be done in a conventional manner. The ASR program will format your hard drive(s) yes both of them if you have a slave drive. Therefore loosing your backup information.
You will need a technician / IT person to restore your computer and they will need the 1.44MB floppy disk created at the end of the backup process.
Thank You!
"PC'S 4 U where quality and client satisfaction are priority!"